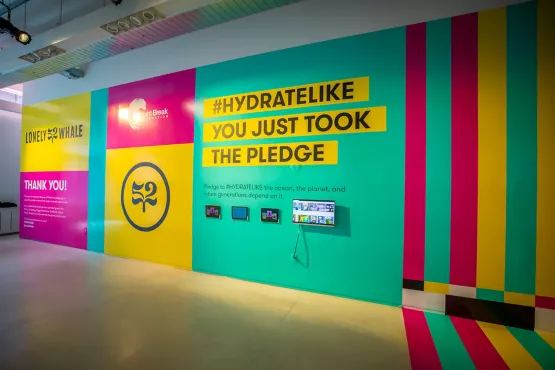 Photo courtesy of Julian Cassady
Imagine dumping one garbage truck filled with plastic material into the ocean every minute. Now imagine two trucks per minute. Now four. Visualizing this makes my stomach turn, yet each year at least 8 million tonnes (about 1 truck load/minute) of plastics enter our ocean. It's estimated that if no action is taken, by 2030 that number will double. By 2050, it will quadruple.
Plastic pollution is a relatively new challenge, yet its accelerated growth is staggering. The world has produced as much plastic since 2000 as in all the preceding years combined—and a third of it is leaked into nature. Once plastic enters the ocean, it's incredibly difficult to remove. Plastic materials break down to create microplastics, which are then ingested by marine life and ultimately by humans. In fact, a new report commissioned by WWF estimates that, on average, people consume the equivalent weight of one plastic credit card per week.  
Now here's the positive news: plastic pollution is a problem that we, as people and businesses, have the power to solve. Plastic plays an essential role in our society and economy, and it's up to us to manage it responsibly so it retains its value and remains in circulation.
Solving for a Circular Future
Today, dozens of creative problem solvers are gathered at HP Headquarters in Palo Alto, Calif., to generate ideas and refine solutions in response to MIT Solve's Circular Economy Challenge. The half-day, highly interactive design workshop, "Waste Not, Want Not: Innovating for a Circular Economy," seeks to spark solutions that shift industries towards circular supply chains.
We know that meaningful innovation comes from diverse perspectives. We're excited to host this ideation "Solveathon" with MIT Solve to tap creative thinkers from HP as well as other industries and disciplines to help inform our own transformation to a more efficient, circular, and low-carbon economy.
The Solveathon will examine plastics reuse and recycling, as well as alternatives like additive manufacturing with 3D printing technology, which is poised to disrupt and transform the global manufacturing industry.
The workshop coincides with the release of our 2018 HP Sustainable Impact Report today, and it builds upon an inspiring month of sustainable impact connected with World Environment Day and World Oceans Day.
Raising the Bar on Recycled Content
Our Sustainable Impact Report details progress toward our commitment to create positive, lasting change for the planet, its people, and our communities. It's a public record that holds us accountable for the commitments we've made and outlines our vision for the years ahead. It includes additional details on our journey to reinvent product design, business models, and industry supply chains to move our company and our customers to a "make, use, reuse" model.
For example, we used more than 21,250 tonnes of recycled plastic in our products last year, including upcycling more than 716,000 pounds of ocean-bound plastic (equal to roughly 25 million bottles) to make Original HP ink cartridges. We're now using ocean-bound plastic and other recycled plastic material to make hardware, like our EliteDisplay E273d Docking Monitor 1, the world's first display manufactured using ocean-bound plastic materials, and HP Tango, made with more than 30 percent closed-loop recycled plastic by weight using plastic from recycled printers and other electronics.
Today, I'm pleased to announce that we're accelerating our recycled content product innovation, setting an industry-leading goal to increase recycled content plastics across our personal systems and print product portfolio to 30 percent by 2025. 2
Achieving this ambitious target will require creative ideation and collective problem solving, like the work we are doing with MIT Solve, innovations with our supply chain partners, like First Mile and ECSSA,  and collaborations like Next Wave Plastics, an open-source initiative, supported by Lonely Whale, that convenes leading technology and consumer-focused companies to develop a global network of ocean-bound plastics supply chains.
Inspiring Action for Our Oceans
While HP and others innovate to keep plastics in circulation, people can do their part by making a conscious choice to minimize (or eliminate) the use of single-use plastic.
Interestingly, single-use plastic water bottles didn't enter the mainstream consumer market until the 1990s, yet collective dependence on bottled water as our primary source of hydration has exploded. Whether it's habit, convenience—or even necessity—people are increasingly reaching for single-use bottled water, using about 500 billion plastic bottles each year. Because only 9 percent of all plastic is currently being recycled, plastic waste is compounding.
Lonely Whale's new #HydrateLike campaign asks all of us to "Question how you hydrate," to spark greater consciousness about the problem of single-use plastic bottles. The campaign made a splash on World Oceans Day at the opening of the Museum of Plastic in New York City. HP is proud to support the campaign, and the pop-up museum, which ran June 8-12 and featured a sneak peek at the EliteDisplay E273d. The display just launched in Asia Pacific and will be available in the US and Europe in July.
Capturing Waste before it Enters the Ocean
HP's responsibility to our planet and society runs deep and wide. Our founders, Bill Hewlett and David Packard, were avid outdoorsmen and champions of the environment, and they formalized our commitment to the well-being of communities and the environment as an HP corporate objective in 1957.
One of the many ways our employees share this value is through service to the communities where we live and work. Since 2016, HP employees have contributed 284,000 volunteering hours on our way to achieve our new goal of 1.5 million hours by 2025. As part of this effort, as I mentioned in my Earth Day post, HP employees around the world have joined forces in a global shoreline clean-up effort to stop plastic and other debris from entering the ocean. I'm pleased to share that employee teams in the US, Latin America, Asia Pacific, and Europe have already collected nearly 10,000 pounds of ocean-bound debris and several more sites are planning collection events in the coming weeks.
Reporting Back, Looking forward
I am proud of the progress we made in 2018 and I invite you to learn more by checking out our HP Sustainable Impact Report. I'm particularly inspired by the momentum that's accelerating sustainable impact across all our business units, functions, and regions. Our commitment to a circular, low-carbon future has never been stronger, our vision never more focused, and the potential for enduring impact never greater than it is today. I'm excited for the opportunities ahead as we innovate and collaborate to create a circular, low-carbon future in which our children and all generations can thrive.
Please join me in taking the #HydrateLike pledge. Post a photo on social tagging @NathanEHurst and tell me what you're doing to reduce your use of single-use plastics.