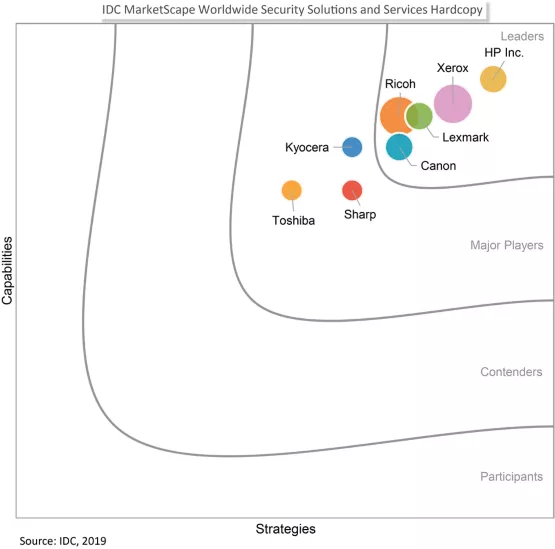 Unpredictable, complex and urgent, cyber security remains a top concern for businesses from the largest enterprises to the newest start-ups.
And for excellent reason: more than 7.9 billion records were exposed in data breaches in 2019, with an average cost of nearly $4 million per business—not including the impact on brand reputation, the investigative, legal, and public relations expenses, and the cost of rehabilitating company image.

Less than 20 percent of enterprise IT decision-makers consider printers a high-risk target for a security breach.  However, the fact is that each printer (just like every laptop, desktop, smartphone, tablet, mobile and cloud application, IoT device, smart meter and remote connection attached to your company) is a potential weak link, and a ripe opportunity for bad actors who need just one vulnerability to wreak havoc.  

Businesses of all sizes need help to secure their endpoints, ensure regulatory compliance, and protect themselves and their customers.

That's why I'm extremely proud to share that HP has once again been named a leader by IDC in the IDC MarketScape for security solutions and services hardcopy worldwide*. The report finds that: "HP Inc. considers the entire cybersecurity landscape with its approach to print and document security. The firm deploys a customer-centric model to identify specific business needs and priorities based on the 'security mindset' of the customer. . . [and] takes a holistic view of print, document, and fleetwide network security, focusing especially on endpoint device security, management and monitoring."
Designed-in security
Because printers and MFPs are not protected by antivirus programs that run on the PC, at HP we design hardware from the ground up with security as a key requirement.
In-depth detection and protection along with automated self-healing and auto-recovery are layered natively in the device itself. The benefits for our customers include behavior-based malware detection in device memory and monitoring of outbound network connections (instead of signature-based which only identifies known malware), multi-factor authentication, automatic run-time intrusion detection, integrated self-healing BIOS, remote wipe and restore and Common Criteria Certified whitelisting, which protects firmware. Security fleet management solutions, such as JetAdvantage Security Manager, assess and dynamically remediate device security settings across a fleet of printers.
We also extend beyond the device to applications which are third-party validated and certified for secure development life-cycle best practices by Security Innovation's Software Development Practices Assessment Certification (SD-PAC) process.