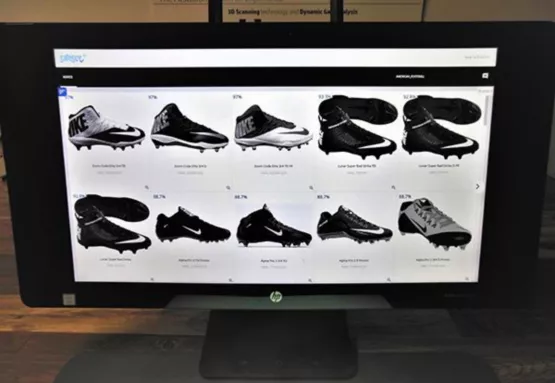 Palo Alto, Calif., Jan. 29, 2018 – HP Inc. and the NFL today announced the use of an innovative new footwear solution— FitStation powered by HP—that uses 3D scanning to provide players with personalized cleat recommendations.
This dual hardware and software platform captures 3D scans of the foot, foot pressure measurements and dynamic gait analysis to create uniquely individual digital profiles, and uses proprietary algorithms to match the digital profile of a player with previously scanned 3D images of Nike, Adidas and Under Armour football cleats. All 32 NFL teams have adopted HP's technology, and it will be fully operational in every team equipment room by the start of next season.
"We are proud to have HP onboard as an official sponsor and have the ability for the League and each of its 32 clubs to tap into their innovative 3D scanning technology," said Renie Anderson, Senior Vice President of Sponsorship and Partnership Management for the NFL. "The NFL's number one priority is continuing to enhance player safety and performance and by utilizing HP's technology to give our players personalized cleat recommendations we're able to continue that mission."
As part of the NFL's ongoing commitment to enhance player health and safety, the league's Musculoskeletal Committee, which analyzes injury data and trends and studies injury mechanisms and prevention, selected HP's FitStation platform for its ability to produce uniquely individualized data to inform shoe selection that best matches the anatomy.
"A shoe is not just about performance, it is an important piece of protective equipment. In the NFL, lower limb injuries are responsible for a significant amount of player time lost. A better-designed shoe can be a protective mechanism against injuries such as turf toe, Lisfranc fractures, and high ankle sprains," said Dr. Richard Kent, a professor of Mechanical & Aerospace Engineering, Biomedical Engineering, and Emergency Medicine at the University of Virginia and a member of the NFL Musculoskeletal Committee.
FitStation captures up to 500 precise measurements per second. The high-quality 3D scanner contains nine cameras to automate length, width and arch-height calculation for a custom fit.