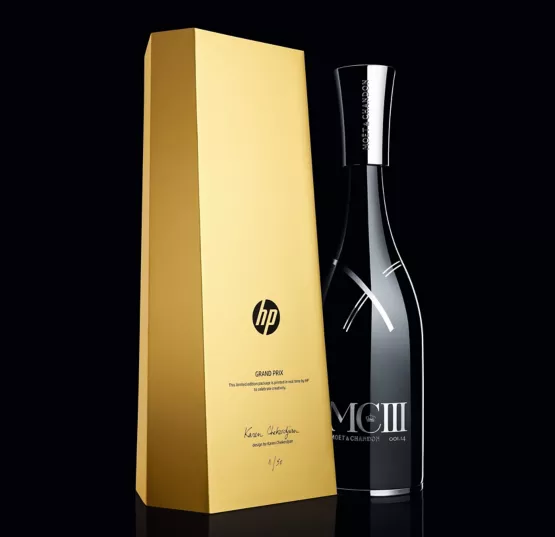 CANNES, June 21, 2018 — At Cannes Lions 2018, HP pushed the limits of its technology to demonstrate the future of engagement through print, collaborating with sculptural artist Karen Chekerdjian to produce uniquely personalized and customized labels and packaging for Moët & Chandon's MCIII champagne.
Cannes Lions celebrates and awards creatives and marketing communications industry luminaries of the year. To help celebrate creativity through the power of digitally printed packaging from design to production, HP created experiences to showcase how brands and creatives can impact and evoke emotions in a personal and memorable way.

During the event, HP produced personalized labels and packaging for Moët & Chandon's MCIII - one of France's most prestigious champagne cuvées - with the names of the daily Cannes Lions Grand Prix winners. The limited-edition packaging is an artistic printed recreation of a six-sided gold sculpture designed by Chekerdjian, whose signature was featured on each numbered box.

In addition, 300 jurors received a personalized champagne bottle, and 400 platinum pass attendees received a digitally printed box - printed on an HP Indigo 12000 Digital Press - containing a personalized champagne bottle and chocolates in a "toast to creativity."

HP collaborated with Serafi, a Barcelona, Spain-based print service provider, to demonstrate the capabilities of the latest HP Indigo printing technology, including an HP Indigo 12000 Digital Press, new HP Indigo silver ink, and HP Indigo 6900 digital press, transforming the media and items into customized luxury pieces with silver and gold metallic effects fitting the award-winning occasion.

The exclusive packaging was displayed in The Girls' Lounge in the Hotel Martinez in Cannes all week. 
Fast and simple professional photo prints with HP Large Format photo
At Cannes Lions, HP also announced a new partnership with The Female Quotient at a signature event in the Girls' Lounge, a destination for attendees to connect, collaborate and activate change together. Female Quotient founder Shelley Zalis and her team created memorable pop-up experiences and impactful programming to advance gender equality in the workplace.
Visitors were offered a professional photo shoot against various backdrops, along with printing of the images on location in the lounge using the new 24 inch HP DesignJet Z9+ Printer. The photo prints printed were packaged for guests in tubes as a memento and also displayed in the lounge.
The new DesignJet Z series printers offer amazing image quality and fast, simple output for print service providers (PSPs), retailers, and creatives to deliver beautiful photos, impactful graphics and technical applications.
Learn more about HP packaging possibilities at hp.com/go/packaging.
For more information about HP Large Format photo printing go to hp.com/go/DesignJetZ9.