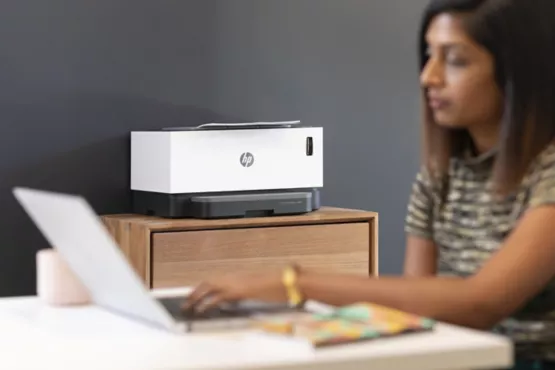 Palo Alto, CA, March 24, 2020 — HP Inc. today announced global availability of HP Neverstop Laser, the world's first toner tank1.
"As business people shift to work from home, they need technology that is easy to use and printing with fewer interruptions – HP Neverstop delivers both," said Tuan Tran, President, Printing, HP Inc. "This means printing for months9, without having to refill toner, at the lowest cost per page."5
Key features include:
Get more toner in-box delivering up to 7X more pages than in-class lasers6
o   No cartridge replacement interruptions 1 with up to 5,000 pages of printing included before your first toner reload6.
Lowest cost for Original HP Toner in-class5. Less than 1 cent per page5
o   Get legendary quality, reliability and precision printing now and every time you reload.
Save every time you reload7
o   HP Toner Reload Kits cost less, with up to 2.5X more pages compared to in-class HP cartridges7.  Quickly restore toner levels with up to 2,500 pages7 – no mess, no stress 1. Watch how.
Connected and mobile
o   Easy mobile scanning and printing, secure fax sending, seamless Toner Reload Kit ordering and Smart Tasks document organization with the HP Smart App, which allows on-the-go access from virtually anywhere8.
Certified energy-saving and Sustainable
o   HP Neverstop Laser's low emission, clean air quality technology is both Blue Angel and Energy Star 3.0 certified.
o   Made with more than 25 percent recycled plastic by weight while the toner reload kit is made of 75 percent recycled plastic by weight.
o   Up to an 84 percent smaller environmental footprint over its life2 than standard laser printers due to continuous toner supply system (CTSS)3 and recycled content4.